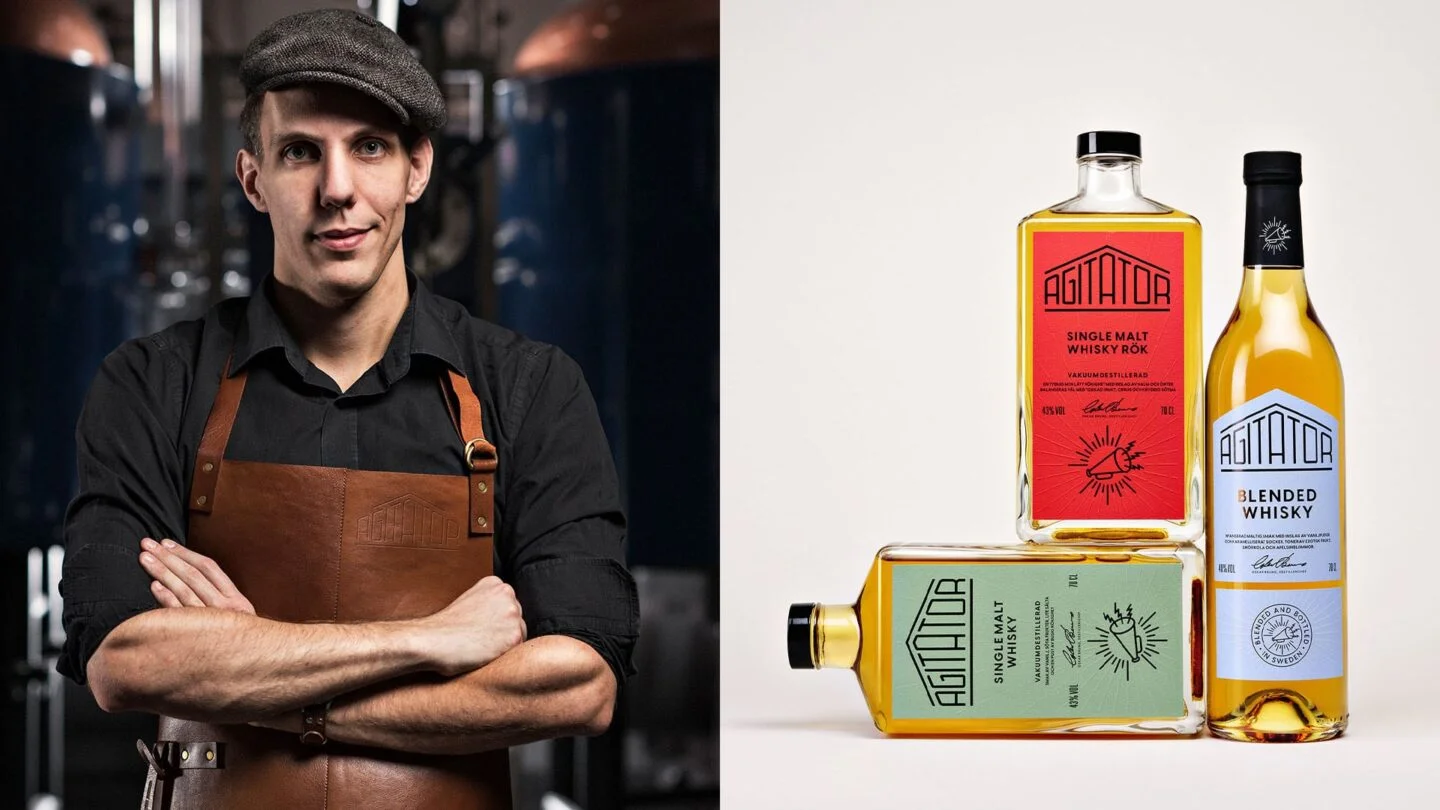 The whisky maker breaking new ground
Tomorrow's Table har pratat med Oskar Bruno, destillerichef på Agitator, för att ta reda på hur modern teknik kan lyfta fram nya smaktoner och hur man ska nå det högt ställda målet att få fram den perfekta whiskyn.
How would you describe Agitator whisky?
We are an innovative whisky producer that has been on the market since 2021. Using modern technology and science, we are able to bring new flavours to the otherwise traditional spirit. We are also very environmentally conscious throughout the production process, for example, our plant is powered solely by renewable fuels. Testing new grains, distillation methods and casks is what most characterises Agitator's whisky, says Oskar Bruno, distillery manager at Agitator.
What makes your whisky different from others in terms of production?
I would say that our production is quite different from traditional whisky makers. Aside from being more climate-friendly than many other players, we distill all our whisky under vacuum, which allows us to produce a flavourful whisky in less time than normal. A traditional Irish whiskey, which normally takes 10 years to produce, can be made in just three years. We are one of very few whiskey distilleries in the world with our production technique, which gives our whiskey a unique flavour," says Oskar Bruno.
You age your whisky in chestnut casks, how does this affect the final product?
Chestnut is a wood that has been used in the drinks industry for many years, such as in the production of brandy. Aging in chestnut casks gives similar results to American oak but adds more intense flavours and deeper color. In addition, the whisky develops notes of toffee, vanilla and dried fruits such as raisins and dates," says Oskar Bruno.
You say yourself that the whisky is slightly outdated, what do you mean by that?
Whisky is a traditional product with roots mainly in Ireland and Scotland. As a result, the spirit has stalled in its development. We want to explore its potential by reinterpreting it. Our innovative methods, combined with a modern production process, allow us to create a completely unique type of whisky. We simply want to make the classic edition better and encourage consumers to take a few steps outside their usual comfort zones," says Oskar Bruno.
Your ambition is to bring whisky into the 21st century and produce the perfect whisky. How will you get there?
It is a vision rather than realism. The aim is to challenge ourselves with the idea that the perfect whisky is not yet made. Rather, we want to produce a product that is as high quality, tasty and sustainable as possible. Given that the consumer today is more willing to try new whiskies than 10-15 years ago, we now have an opportunity to offer something original. We strive to create a kind of 'whole world' whisky, a goal we may never reach, but the journey there is what motivates us in our work," says Oskar Bruno.
Interest in whisky has increased in recent years and competition is fierce. How are Agitator and the whiskey industry faring in times of rising electricity prices and inflation?
We are undoubtedly in a tough time right now. The spirits industry is an extremely energy-intensive industry, which has a direct impact on production prices. In our case, the cost of glass has increased significantly. At the same time, we are part of a growing category that is constantly expanding with producers from non-traditional whisky countries. We want consumers to associate the Agitator brand with modern and climate-friendly distilling technology while offering a different product. Our goal is to be an accessible and quality volume product that offers standard editions at a reasonable price," says Oskar Bruno.