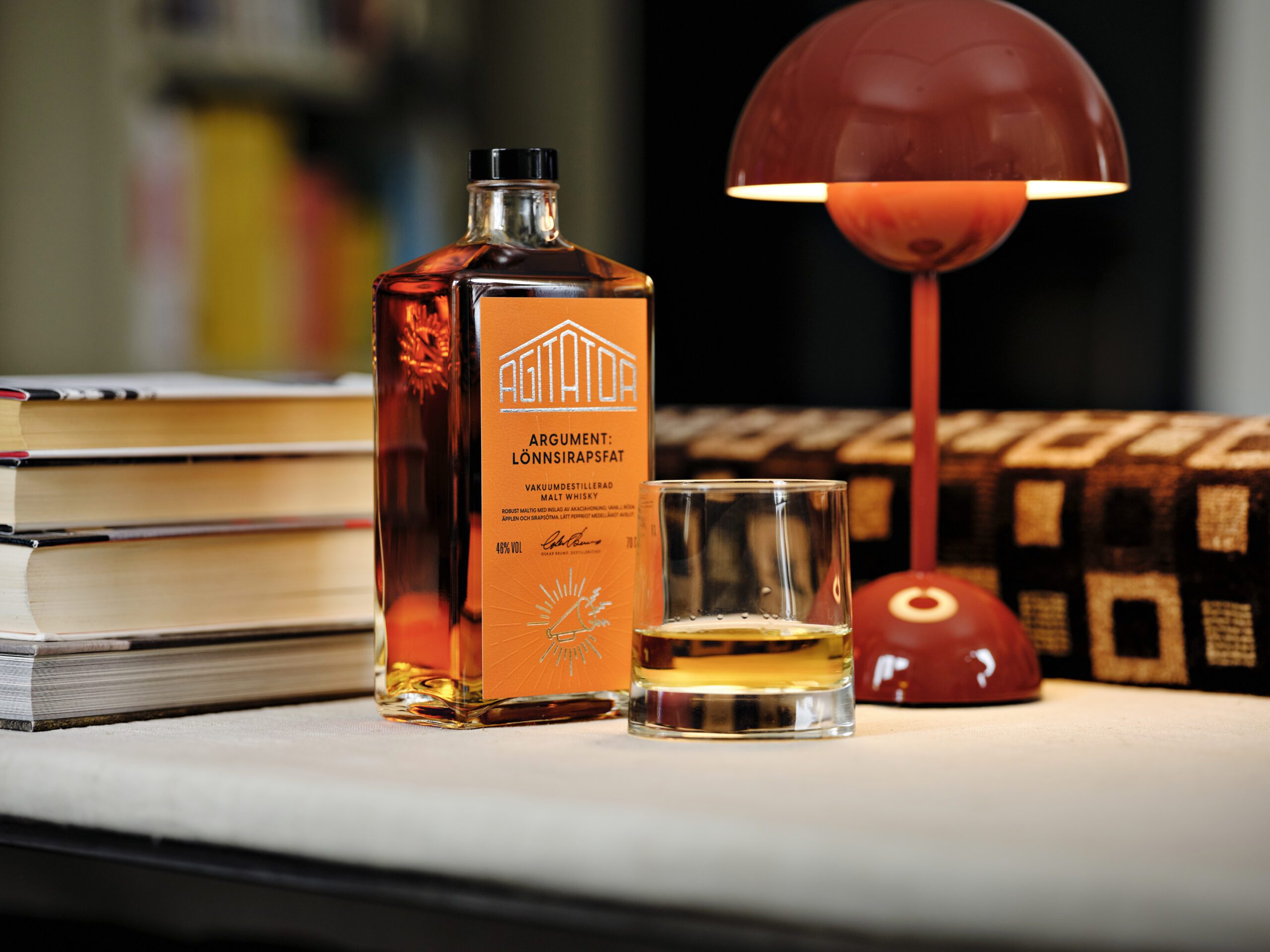 Lively sparkling rye whisky with maple syrup in the front!
by Henrik Aflodal at The Spirits/Whisky News
Agitator goes where others have never gone. Because who has heard of a whole rye whiskey dipped in maple syrup barrels? An all-American approach that would fly to the moon in the Midwest if the whiskey had the chance. This is what the Swedes' daring barrel experiment tastes like...
Agitator's new rye whisky aged in sweet maple syrup barrels is a daring experiment. Rye distillate with its spicy but also slightly sweet-fruity dimension is the right choice of spirit, of course. But still, won't it be too sweet? We're talking about maple syrup!
Sure it's sweet but the competition for aromas is great, with both ethereal and acidic aromas counteracting the sweetness in the grind. The whisky is surprisingly delicious. Of course, the maple syrup comes through but not too much.
The distillate itself carries the flavors freely, helped by the ectons from the small barrels used. The base is rye whiskey aged in 200-liter barrels for a few years and transferred to 60- to 120-liter American maple syrup barrels for over six months of finishing.
Honey-like scent with apple freshness. Underneath rounded notes of maple syrup and oak veneer, with sweet rye in the depths. A full-bodied sweet flavor that is honeyed with maple syrup at the start. Everything changes when tangy citric/vinic acid attacks, a tougher change of scene.
Midway soothing caramel with more sedate minerals on the bottom that are rye spicy. Medium to long finish of fruit caramel and vanilla bean that is replaced by tangy rye spice in a growing oaky-ethereal aftertaste.
The whisky is light but with backbone. Acidic aggressive streaks in the mouth save the bottling from supposed sweetness paralysis, it is the distillate that screams! It's here at 46% that whisky should be drunk and speed is appreciated. It gets nicer with water.
The scent becomes cleaner and fresher. A springtime aroma of birch buds with friendly honey underneath. The flavor is sweetish with sharper acidity in the middle, followed by lemon caramel and dried apple rings. Long oak-ethereal finish that is distinctly rye-like with apple lemonade and honeycomb.
The beauty of it all is that the whisky has an apple air that sells like crazy! Drink it over ice with an apple slice tucked into the ice blocks. Or why not a lemon or orange zest hanging over the edge? The garnish gives completely different effects. It's delicious, cheers!
Agitator Argument: Lönnsirapsfat 46%
90/85p​ Aroma 22/20, Taste 22/22, Finish 23/21, Balance 23/22  Rye whisky released by Agitator. Aged in 200-liter bourbon barrels first, final aging for 8 months in small barrels of 60-120 liters of American oak that previously contained maple syrup. 6000 bottles hit the shelves in 220 Systembolaget stores on March 24, 2023.   SB-nr 41335, 599 SEK